Update released August 9, 2019
MOBILedit is one of the first phone forensic tools, and since 1996 has played an important role in the industry. Now we have released a big version 7.0, moving phone forensics forward. As an expert in the field you shouldn't miss this event.
New MOBILedit Forensic Express comes with a better user experience, better reports, better phone unlocking, is faster and brings great new features. If you are not using MOBILedit Forensic Express yet, request a demo here.
According to feedback from our customers, here's what they like the most about MOBILedit Forensic Express:
Highest number of supported apps and best in getting data from messengers and other apps

Fast updates with Live Updates plus on-demand application analysis

Great in recovering deleted data

Best reports, especially PDF, easily understandable to whoever reads them

Ease of use, requires minimum learning

Fast, concurrent processing of many devices

Price effective
What's new
Phone data pre-viewer
View essential data before the extraction even starts! This can rapidly speedup evidence collection to help in making the right decisions quickly.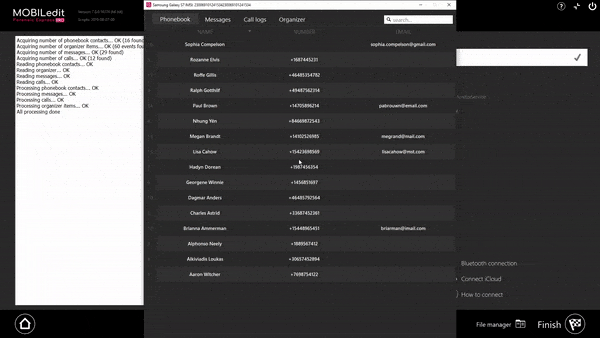 What You See Is What You Get - WYSIWYG reports
Our reports are now fully customizable – you can choose the most important data and order them any way you want to. You can literally define the content of the report at your fingertips.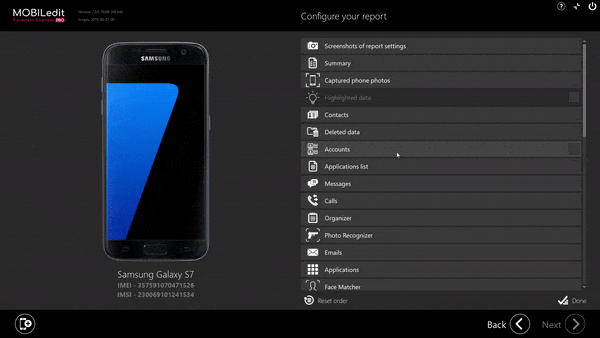 Better Android phones unlocking
We have implemented phone unlocking by using flashing of custom recovery images for some Android phones, so you don't need to root those phones and can get the physical image with access to maximum data without knowing the user password.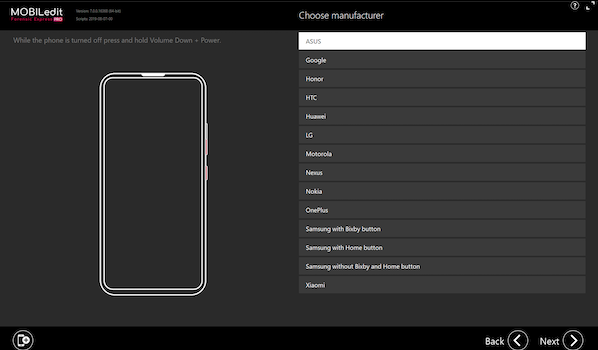 Hardware license dongles now supported
Now you can take your license with you in case you need to work in the field or do not have access to the internet. Also you can share your license with colleagues in a more flexible way.
Faster extractions of media from iPhone
Extractions of photos and videos from new iOS devices are now much faster by using multi-threading for re-coding and resizing images.
New spyware detection
In addition to malware we can now detect spyware by using machine-learning; we can even find new, unknown and proprietary developed spyware code.
Our best in the industry reports are now even better
We have fine-tuned our PDF and html reports taking your case presentation to even an higher level.
MOBILedit is now fully available in these languages: Portuguese, Czech, Slovak, working on many more, let us know if you want to translate...
Easy connection of Apple devices by handling driver installation
Other improvements
Huawei - HiSuite backup analysis improved

File Manager now displays file metadata information

iMessage photos report display improved

Loading report configuration file improved

Improved physical images loading

Custom recovery image creation improved

Drive 'free space' appearance improved
Application analysis improvements
Analysis of apps is very important today for successful investigations, so we have added many:
Airbnb updated

Agoda iOS version added

Baidu Map Android version added

Bitcoin Wallet added

Bitcoin.com Wallet added

Dolphin browser updated

Duolingo added

Faceapp added

Facebook Messenger updated

Fake GPS Free Android version added

Fake GPS Pro Android version added

Fake Location Android version added

Gmail updated

Google updated for Android and iOS version added

Google Drive updated

Google Maps updated

GPS Joystick Android version added

Hangouts updated

Hola Fake GPS Android version added

Hot or Not added

ICQ updated

Instagram updated

iOS Notes updated

Joyride / Jaumo added

LinkedIn updated

LIME added

Location Changer Android version added

Luno updated for Android and iOS version added

Mycelium Wallet added

OkCupid added

Pinterest updated

QQ application updated

Skype updated

Telegram updated

Threema updated

TikTok updated

Twitter updated

WhatsApp updated

Yandex added

YouTube updated

And almost 100 weather applications added