Due to better security, some application manufacturers made restrictions on what data can be acquired from their apps. This is especially relevant for non-rooted phones.
To bypass these restrictions we have introduced the App downgrade feature in MOBILedit Forensic, which will downgrade the apps to a version in which there was no problem in obtaining the data from them directly.
On the main screen of MOBILedit Forensic select Updates and then select App downgrade update - as seen in the screenshots below.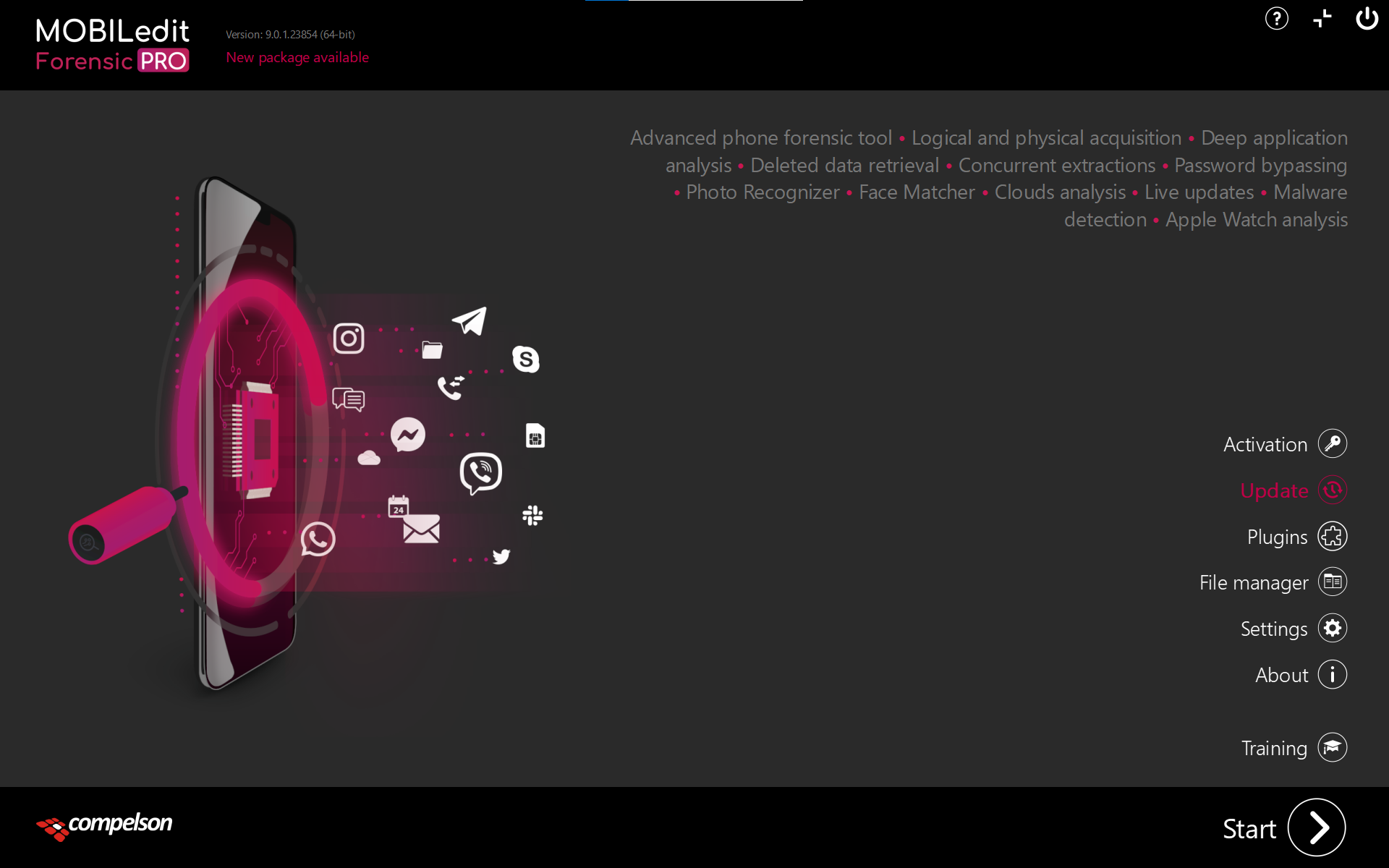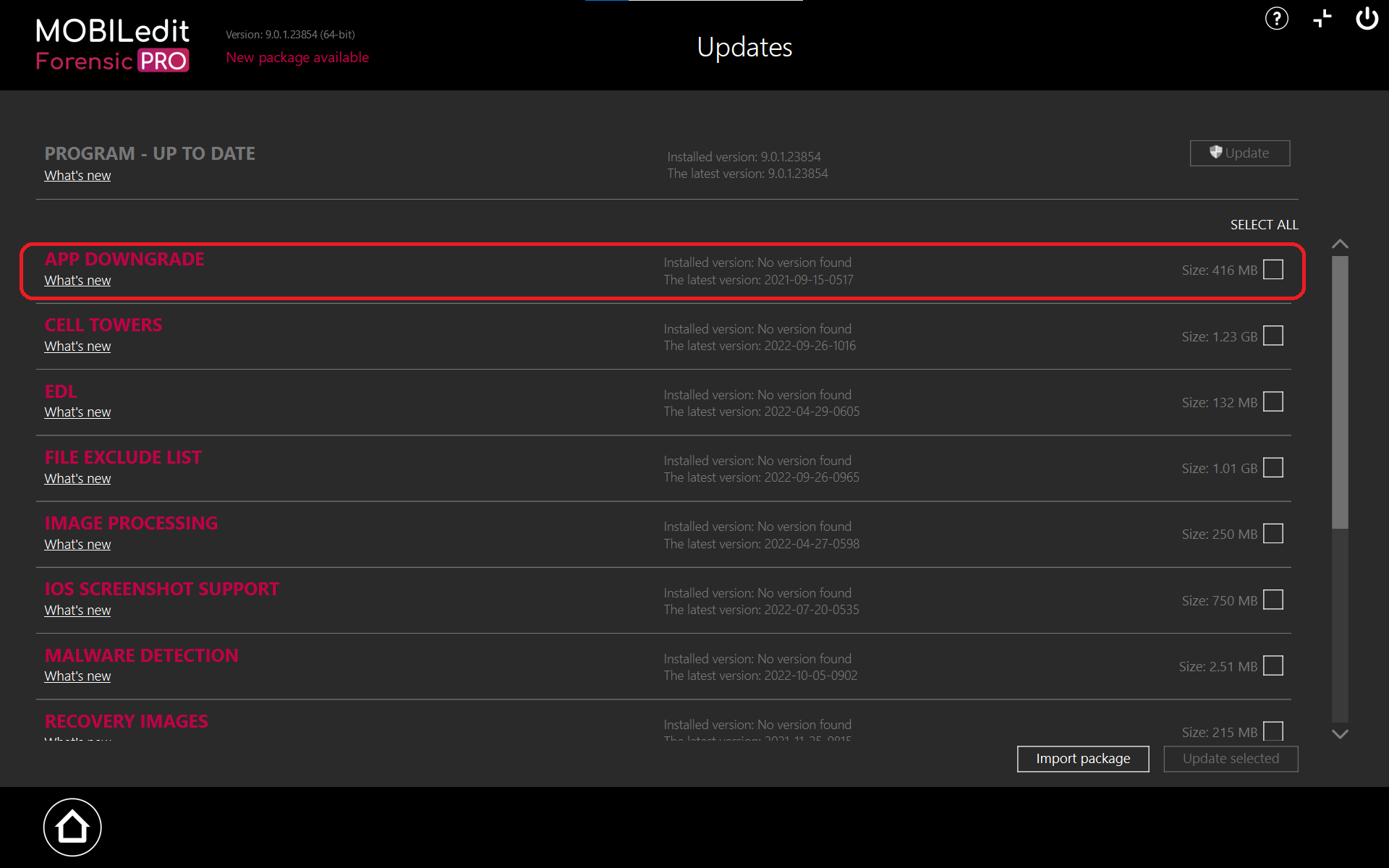 You will then be asked to download an extension for MOBILedit Forensic, which consists of the apps .apk installation files. Please confirm the download and wait for it to be completely downloaded.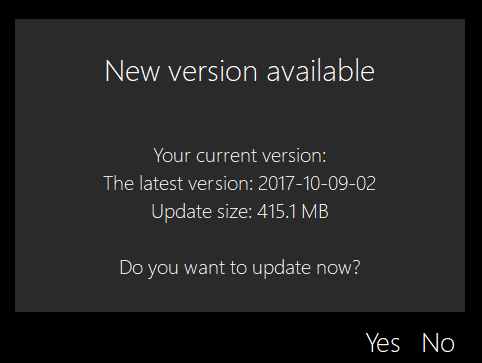 After the download, the installation will start automatically. Once finished, the App Downgrade feature will be included in the Applications section of Specific Selection options when configuring a report.
The settings and functionality of this feature are described below in the Functionality section of this page.
Functionality
Your phone must be properly prepared before downgrading the app. Turn on airplane mode, confirm USB debugging, and for some phone manufacturers like Xiaomi, Oppo and others, the "Install app via USB" option must be checked.

Also, only our "Forensic connector" app should be open and running on the phone. All other apps MUST be closed, including background apps and especially the app that you are trying to downgrade.

Do not carry out any operations on the phone during the process, only when MOBILedit Forensic asks you to.
To use the App downgrade function, connect a phone to MOBILedit Forensic, select Specific Selection, and choose Applications in the right-sided menu. You will now have the option to choose (tick) the App downgrade feature to be used in the data extraction process.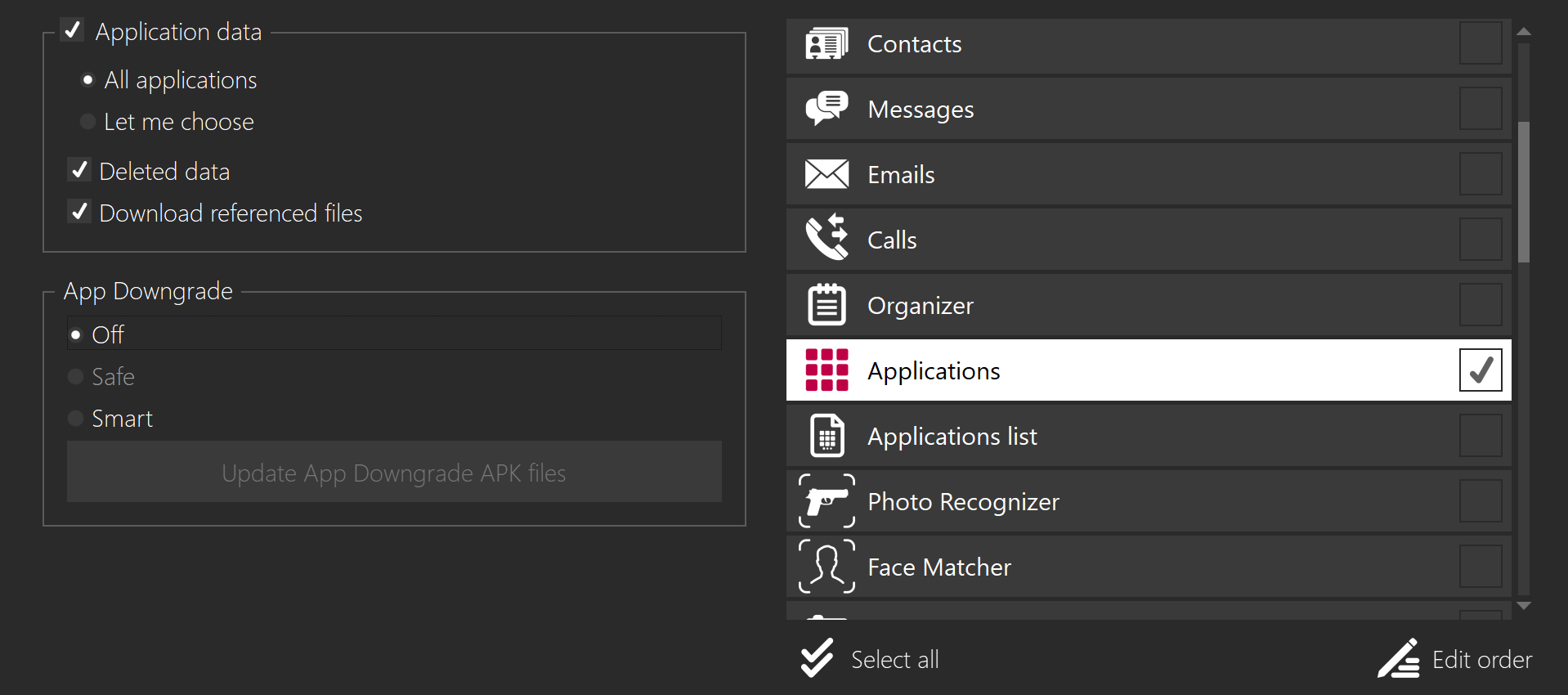 There are two options of App downgrade available - Safe and Smart. The safe option works with Android 4.4+ and 5.0+, but not higher than 6.0, while the Smart option works with the other versions. In case the version of Android on your phone was automatically detected by MOBILedit Forensic, one of the App downgrade options will be greyed out accordingly, so you can be sure you are using the correct one.
Upon continuing with the extraction you will be asked to allow a test .apk file to be installed on your phone and downgraded. This allows us to check, whether your phone supports the App downgrade feature.
Please be mindful of the following warning message.
When the extraction is started, you will see the downgrading progress on the left side of your screen. During the application downgrade, you may be required to confirm backup on the device more than once.
Please note that only some apps support this feature as of yet, although we are working on expanding the list.
The list of supported apps for App downgrade can be found here.
Pre-installed apps from manufacturers cannot be downgraded.
Here you can see how App downgrade works.