What data can be extracted?
MOBILedit Forensic automatically uses multiple communication protocols and advanced techniques to capture the maximum potential data from the phone and its operating system. It then combines all of the found data, removes any duplicates, and presents it all in one complete, customized and easy-to-read report.
We support over 1000+ applications as of this time and we are still adding more. If you need to analyze an app that is not yet supported, we can add it upon your request. To request app support visit our application database here.
Below is a list of categories that can be selected for extraction and analysis while using the specific selection. By selecting categories from this list you are essentially defining what will be extracted from the phone as well as what chapters you will see in the report.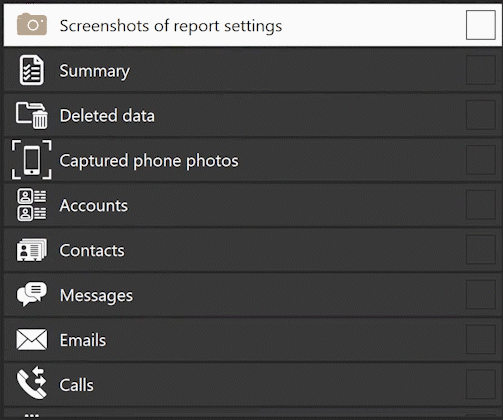 Disclaimer
Please note that for devices with Android version 7 and above the non-native application data - such as social media, email, internet activity or GPS locations - extraction is not supported (or can yield very little useful information), unless the phone is rooted or direct access to the phone files can be established.